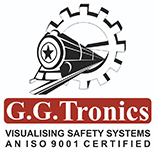 Company Profile
G.G.Tronics India Pvt. Ltd., a group company of M/s. Nippon Signal Co. Ltd., Japan, is situated in Silicon Valley of India, Bengaluru and involved in Design, Manufacturing, Supply and Installation of Electronic Safety Embedded Systems for Railway Transport sector. Products includes Single & Multi Section Digital Axle Counter SSDAC / MSDAC for track section, Approach Train operated warning system for Railway level crossing and many etc. G.G.Tronics is ISO 9001:2015 certified and approved by RDSO, Ministry of Railways, Government of India. The signaling products meet stringent CENELEC 501xx safety standards. G.G.Tronics is equipped with 50000 sq.ft area state of the art technology manufacturing setup under one roof including In-House Embedded System R&D, Electronic manufacturing setup with leaded and SMD component technology, sheet metal works and world class level testing / reliability analysis lab.
Established in 1991
ISO 9001-2015 - Certified
Employee strength of 200 + with 50 professionals in R&D
Specialization in Safety Embedded System Technology
Providing unique solutions in Safety Application Domain with latest Safety Embedded System technology
At G G Tronics meeting challenges is a way of life
Our Mission :
Committed to satisfy expectations of our customers and employees with a focus on continuous improvement.
Our Vision :
To be a leading solution provider with Design, Development, Manufacture, Testing and Commissioning in Railway Transport and Industrial Automation sectors.
Our People :
Dedicated qualified and experienced professionals with inherent competency in the state of the art technologies in safety critical areas.
Our Strength :
In-House Embedded System R&D
Safety System design capability
Product Engineering with PCB and mechanical design CAD facility
Hardware and Software safety validation
System Hazard Analysis
Reliability Analysis
In-House Electronics production line
In-House Automatic Testing of PCB's using In-Circuit Tester
In-House Environmental Stress Screening
Antistatic protected SMD and Leaded components production line
Panel building and staging
In-House sheet metal fabrication
CEO's Message