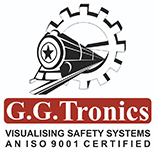 Projects › Train Collision Avoidance System "TCAS-G112"
TCAS-G112 is a 2x 2oo2 microcontroller based fail safe system preventing Head-on collision, Rear end collision, Side collision and Signal passing at Danger (SPAD).
G112 prevents train roll Back/Forward & Reverse movement.
TCAS generates Save Our Souls - A distress message under emergency.
TCAS generates Train Parted/Jumbled message under train parting or jumbling situations.
TCAS delivers 3 different kind of braking commands named as Normal, Full service and Emergency Brake commands.
TCAS applies the brake to the locomotive according to its brake distance curve.
The system supports multi vendor interoperability with universal features.
Third party Verification and Validation of TCAS-G112 system will be done for all configurations complying to CENELEC SIL-4 level.
Prevent Head-on collision, Rear End collision and Side collision.
Prevent Signal passing at danger.
Generate the SOS/ Unusual command message.
Perform well at train speeds up to 160 km/hr.
Auto train length assessment based on the status of track circuits.
Determine the track identity (TIN) with RFID Tag fitted on the track.
Perform Manual/ Auto brake test at startup.
Determine the brake distance curve based on the speed, gradient & target distance.